1. Don't… visit MOMA or The Met
I don't have anything against either of these museums. I used to be a card-carrying member of MOMA and I'm planning to check out their new exhibit, "Rising Currents: Projects for New York's Waterfront."
It's just that a visit to MOMA will set you back $20 (unless you join the budget seeking horde on Friday night from 4-8 PM, when admission is free). The "recommended" admission for The Met is the same.
And besides, both of these museums are so huge that it's hard to feel you've "done" them or squeezed the value out of that ticket price in just a single visit.
Do… visit MOCA, MOCADA, El Museo del Barrio, or The Jewish Museum
Given New York's immigrant history, it shouldn't be surprising we have a museum for almost every diaspora, including MOCA (Museum of Chinese in America), MOCADA (Museum of Contemporary African Diasporan Arts), El Museo del Barrio (located in Spanish Harlem, a museum for Puerto Rican and Latin American art), and The Jewish Museum.
Admission at all four of these museums is less than that wallet-busting $20 you'll drop at MOMA or The Met. ($7 at MOCA and free on Thursdays; $4 suggested donation at MOCADA; $6 suggested donation at El Museo del Barrio with free admission every third Saturday; $12 at The Jewish Museum and free on Saturdays).
But the real reason to visit these museums is because they're smaller in size and let you walk away feeling like you really saw everything and learned something interesting in the process.
Plus, these museums aren't overrun by crowds and the facilities are excellent. MOCA is brand new and El Museo's paint has barely dried after a recent renovation.
2. Don't… do the Statue of Liberty
There's something that feels unpatriotic about telling you to skip the Statue of Liberty, but I have my reasons. First of all, a visit to Liberty sucks up your whole day, what with long lines and strict security. Second, if you really just want to see the statue, you'll get a much better view from the ferry or from Ellis Island than you will on Liberty Island itself.
Do… visit Ellis Island AND the African Burial Ground
Ellis Island — the nation's "premier federal immigration station," according to the National Parks Service — is far more interesting than the Statue of Liberty if you're really passionate about American history.
The 30-minute film, "Island of Hope, Island of Tears" is a Ken Burns-esque documentary that tells the history of Ellis Island. If you'd rather walk than sit, guided tours convey the same information. And if you're interested in genealogy, you can look up your ancestry here.
Another alternative is visiting the recently opened African Burial Ground, which, like Ellis Island is run by the National Parks Service. There's no admission fee to enter the visitors' centre, explore the exhibits, or to visit the actual burial ground itself.
3. Don't… go to Central Park
Yes, it's enormous. Yes, it's beautiful. Yes, it even has wildlife.
But New York City has more than 29,000 acres of OTHER parks, and many of them are just as beautiful — if not more so — than Central Park.
My favourites are Ft. Tryon (at the northern tip of Manhattan New York, with elevated views of the Hudson River, it was built by the son of the architect responsible for Central Park); The Hudson River Park (a long, narrow park that runs almost the entire length of Manhattan's West Side and offers areas for picnicking, watching movies and live performances, bike riding, skate boarding, rollerblading, and kayaking, among other activities); and The High Line (an elevated urban park built on an old freight line).
Outside Manhattan, my favourites are Gantry Plaza State Park (a waterfront park in Long Island City with multiple piers — has THE best views of Manhattan; great for photos; also has hammocks in the summer, a kayak launch point, and a nearby "beach" bar), DUMBO's Brooklyn Bridge Park (a work in progress, also waterfront), and Governor's Island (open June through October).
4. Don't… assume a hotel is beyond your budget
"But New York hotels are so expensive…."
True, but your doctor bill may be more expensive after you spend a few nights on a bedbug infested hostel mattress or a few mornings in a sketchy hostel shower.
Do… check out hotels beyond Manhattan New York
Check out the Ravel in Long Island City (waterfront views — and no, it's not on Long Island; it's five minutes from midtown Manhattan), which currently has rates as low as $99/night.
Hotels are popping up all over LIC, with a Holiday Inn being the closest to a subway line (39th Avenue stop on the N and soon to be defunct W train).
5. Don't… go to Serendipity or Magnolia
Do you really want to spend an hour in line for a frozen hot chocolate or a cupcake?
Serendipity and Magnolia are popular because they were featured in "You've Got Mail" and "Sex and the City," respectively. Do you think that makes their desserts any better than anywhere else?
Do… chase down the Van Leeuwen ice cream truck and eat some Wafel and Dinges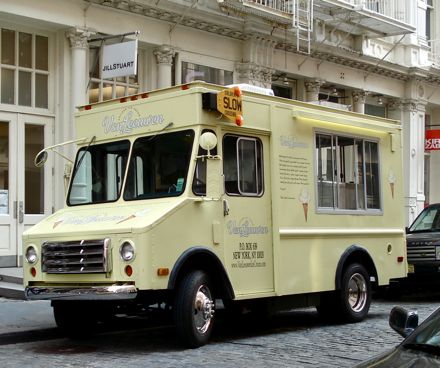 Van Leeuwen serves artisanal ice cream out of a roving truck — red currant, giandujia, hazelnut, and ginger, to name a few flavours. They have a storefront in Brooklyn if you can't catch up with the truck.
If ice cream's not your thing, look up the Wafel and Dinges truck, which serves Belgian waffles with all manner of dinges — toppings — or find a truck to suit any craving you might possibly have. Check the City Room Blog's Twitter list for a full roster of food trucks (many offer special deals to Twitter followers).
6. Don't… go see a movie
New York is a great place to see a movie because we have so many specialty theatres, like the ImaginAsian, an arthouse cinema featuring Asian films.
But did you really come to New York to see a movie?
Do… go see a movie being filmed
The Mayor's Office of Film, Theatre, and Broadcasting lists films and TV shows currently being filmed in the city, and if you follow @olv on Twitter, you can find out where and when filming is scheduled to occur.
7. Don't… shop for knock-offs on Canal Street
"Psst. Want a Coach bag? Prada? Prada?"
You don't believe that $20 Coach bag on Canal Street is real, do you?
Besides being cheap, your purchases on Canal Street support an underground economy, the consequences of which are largely hidden from view (and involve immigrants living in overcrowded and unsanitary conditions in stairways and closet-sized rooms in the buildings where you'll be taken to view the merchandise).
Keep your conscience clean and get something real by browsing Union Square. Local artists sell paintings, photos, jewellery, homemade t-shirts, indy films, and lots of other wares at tables arrayed around the southern end of the park. You'll get something that's really original…and you don't have to feel bad about it.
8. Don't… visit Little Italy or Chinatown
Again — nothing "wrong" with Little Italy or Chinatown (visit the former during the San Gennaro festivities, the latter during Chinese New Year celebrations). Both of these neighbourhoods remain cultural enclaves that have somehow managed to resist encroaching gentrification.
Do… visit lesser-known immigrant districts
But why not explore one of the lesser known neighbourhoods like Koreatown, Little Brazil, Polish Green-point, and predominantly Greek Astoria? These immigrant neighbourhoods are just as lively — and less touristed — than Little Italy and Chinatown.
And if you're headed to Astoria, let me know. I'll meet up with you at Omonia for some Greek coffee and Sokolatina.
9. Don't… go to a show at Madison Square Garden, Radio City Music Hall, or Broadway
Like MOMA and The Met, these are all world-class venues, but there are dozens of other event spaces where incredible concerts, lectures, and performances are given by well-known and totally fresh talent.
Do… get your culture fix at a venue you've never heard of
Some places worth checking out include BAM (the Brooklyn Academy of Music),Bargemusic, The LAByrinth Theater Company, the Manhattan Theatre Club, and The Chocolate Factory.
Article provided by our friends at Matadornetwork.com